It's always good news when your favorite band begins work on new music.
Well, that is the case as my favorite band MASTODON is working on new music.
That fact was confirmed by drummer Brann Dailor via an Instagram post: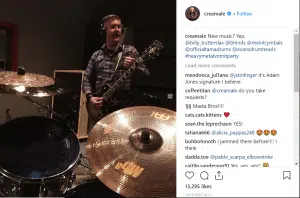 The picture was taken from behind Dailor's drum set and shows guitarist Bill Kelliher in the studio.
Dailor confirmed to Consequence of Sound that the band would probably be starting work on the follow up to 2017's Emperor of Sand in 2019. They are clearly ahead of schedule, but if my instincts prove correct we shouldn't expect any new material out before 2020.
We will keep you updated as this story develops. If you haven't gotten a copy of "Emperor of Sand" you can do that here.
[Instagram: Brann Dailor] [Consequence of Sound] [Mastodon Official] [Youtube: Mastodon]