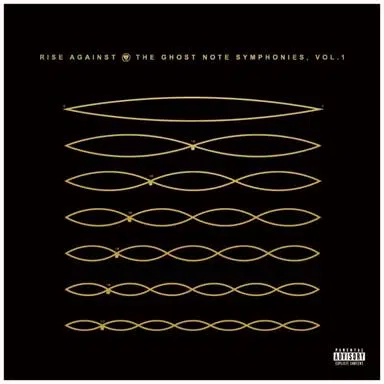 OFFICIAL PRESS RELEASE:  July 27, 2018
Today, Rise Against released The Ghost Note Symphonies, Vol. 1 (Virgin Records), which features re-imagined versions of standout songs from the band's discography – including "Faint Resemblance" from Rise Against's 2001 debut album, The Unraveling, "Audience of One" and the Platinum hit "Savior" from 2008's Appeal to Reason, and several songs from the 2017 album Wolves, which debuted at No. 1 on Billboard's Alternative, Top Rock and Hard Rock Albums charts. The Ghost Note Symphonies, Vol. 1 is available HERE in digital, CD and vinyl formats.
For The Ghost Note Symphonies, Vol. 1, Rise Against met up with Bill Stevenson and Jason Livermore at the Blasting Room in Fort Collins CO, where they had recorded several previous albums with the producers. The band members – Tim McIlrath (lead vocals/rhythm guitar), Joe Principe (bass), Zach Blair (lead guitar) and Brandon Barnes (drums) – and producers were united in their determination to take a fresh approach to the material.
"These are the songs that made us who we are. Doing a stripped-down version shines a little more of a spotlight on them," says Tim McIlrath. "We asked ourselves questions like, 'How can we reimagine this so that we're not just playing the same song on acoustic guitars? What if we got a different instrument to play this part?'" The band was joined by musicians on a variety of instruments not typically heard on a Rise Against album, including violin, viola, stand-up bass, and ukulele."
 Whereabouts Unknown, a new 12" x 9" hardcover book created by photographer/ filmmaker Rob Fenn and the band, documents Rise Against's legacy as a powerhouse live act that has kept its moral compass steady, using their international punk platform to speak out for social justice. Fenn chased the band all over the world, capturing the raw energy of Rise Against and their fans.
In addition to taking a look back at its history, Rise Against is forging forward, recording new material. The band recently released the 7" single "Megaphone" backed with "Broadcast [Signal] Frequency." The video for "Megaphone," which can be seen below, was created in collaboration with the activist art collective Indecline.
Rise Against will be joining Lou Brutus tonight (7/27) on Harddrive XL to discuss this album.
Track Listing – The Ghost Note Symphonies, Vol. 1
(Albums that the original versions appeared on are noted in parentheses.)
1. The Violence (Wolves)
2. Audience Of One (Appeal to Reason)
3. Faint Resemblance (The Unraveling)
4. House On Fire (Wolves)
5. Like The Angel (Revolutions per Minute)
6. Miracle (Wolves)
7. Savior (Appeal to Reason)
8. Wait For Me (Endgame)
9. Far From Perfect (Wolves)
10. Voices Off Camera (Revolutions per Minute)